Polyphemium

Element type
Impervious metal
Country of Origin
International
Initial origins
Meteoric
Weight in solid form
4,000 tons
Melting point
1,390°F
Other elements present¹
Iron, steel, unknown
Value per ounce
$500 per oz.
Legality in countries
Legal in all countries
Products used in
Weapons, vehicles, machines, buildings
Date of discovery
May 21, 2025 by Phicke
Status in usage
Wildly used commercially
¹The unknown element has a jade color and hardness of unknown origin.
Unbreakable metal, symbol Pl³, a strong metal that was discovered in 2025 by the American geologist Ronald Phicke. Polyphemium has a melting point of 1,390°F and costs more than $500 dollars per ounce.
The discovery of polyphemium was made by Ronald Phicke. Then came a series of claims on the metal by international companies.
Commercial
Edit
Distribution
Edit
Polyphemium is distributed by numerous mining companies such as the United Metals Corporation.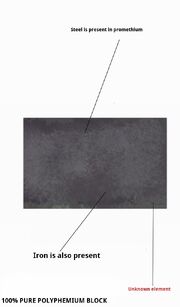 Ad blocker interference detected!
Wikia is a free-to-use site that makes money from advertising. We have a modified experience for viewers using ad blockers

Wikia is not accessible if you've made further modifications. Remove the custom ad blocker rule(s) and the page will load as expected.