Heltlerian Nationalist Republic of America (HNRA), Provisional Heltlerian Regime or Heltlerian Empire, , a republic that was founded by General Aldof D. Leon Heltler.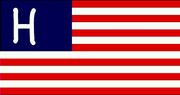 The Nuclear War of 2013 cause the collapse of the United States of America. A series of events led to a downfall of nations. Then a man named Aldof D. Leon Heltler or better known as Aldof Heltler. Heltler formed a regime that would exist for decades. The Heltlerian Republic was established in 2015 and a series of resistance fights and revolts will take place ripping apart the republic and restoring order in the Americas.
Region #1
Edit
Occupied Canada and the Republic of Quebec (puppet state).
Ontario and Michigan Protectorate.
Republic of Wisconsin (puppet state)
Region #2
Edit
Occupied Mexico and Protectorate of Cuba.
Region #3
Edit
Region #4
Edit
Occupied Haiti and Hispaniola.
Jamaican Resistance
Region #5
Edit
Nicaragua Free State and Heltlerian Republic of Panama and Costa Rica.
Region #6
Edit
State of Puerto Rico (under FAR occupation)
Region #7
Edit
United States of the Mariana Islands
Region #8
Edit
This region is now known as the American Republic
Baja California (occupied by FAR)
State of the Sanora Desert (occupied by FAR)
Phoenix City (FAR headquarters)
Region #9
Edit
Atlantic Ocean Base (destroyed by FAR)
Region #10
Edit
Pacific Ocean Base (destroyed by FAR)
Hawaiian Islands (occupied by FAR)
Ad blocker interference detected!
Wikia is a free-to-use site that makes money from advertising. We have a modified experience for viewers using ad blockers

Wikia is not accessible if you've made further modifications. Remove the custom ad blocker rule(s) and the page will load as expected.